30 Yard Dumpster General Information
A 30-yard dumpster is perfect for larger projects, such as construction, demolition, home renovation and commercial cleanup jobs. It has a maximum capacity of 30 cubic yards, or approximately 12 pickup loads.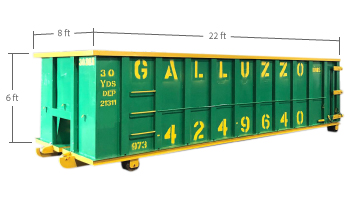 30 Yard Dumpster Dimensions and Weight Limit
Our 30-yard dumpsters are 8 feet wide, 22 feet long and 6 feet high.
The weight limit for 30-yard dumpsters is 4 tons.
30-yard dumpsters are best when used for lighter debris that take a lot of space. For heavier debris such as asphalt, brick, and concrete, a 10-yard dumpster or a 20-yard dumpster may be a better choice.
30 Yard Dumpster Rental Pricing
Prices for our dumpster rental services vary based on the location. The duration of the rental affects the pricing as well. To get a quote that meets your particular needs at the lowest price, please call us at (973) 424-9640 during business hours, or leave us a message on our contact form.