When you need a dumpster, you can count on Galluzzo Brothers! We've been providing roll-off dumpster rental services in New Jersey since 1998, and we have years of experience in the waste management industry. Our team can provide you with a wide range of dumpster sizes including 40 yard, 30 yard, 20 yard, and 10 yard dumpsters so you can feel confident knowing you have a dumpster that can handle your project's waste and debris.
Whether you're conducting a construction project or a renovation project, we have a dumpster to suit your needs. Each of our roll-off dumpsters are competitively priced, so you can rest assured you're getting the best bang for your buck. We pride ourselves on our great customer service, and you can count on our team to deliver your dumpster quickly and efficiently.
Call or send us a message to get a free quote today!
Choosing the Right Sized Dumpster
We offer different sized dumpster rentals to suit your needs. The right size depends on the amount of debris and waste you'll need to have removed. For instance, 10-yard dumpsters can handle approximately 50 to 70 trash bags. These dumpster are best for smaller projects and renovations such as a roof replacement or property clean-outs. 20-yard dumpsters can hold approximately 110 to 130 trash bags, 30-yard dumpsters can hold up to 190, and 40-yard dumpster rentals can hold up to 250.
Of course, it's important to note that the right size dumpster rental for you is also determined by how much space you have available at your location. Locations with short or narrow streets and driveways might not have enough space for certain dumpster sizes. Towns also have their own regulations that restrict the delivery of the dumpster. If you're between dumpster rental sizes, it's recommended to choose the larger dumpster as filling a smaller dumpster past its weight limit will cost you more in additional fees.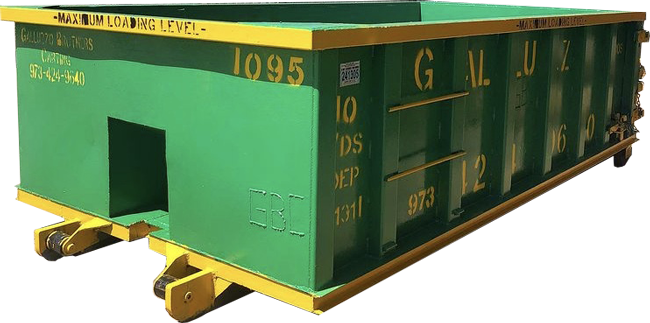 We're ready to help you plan your dumpster rental! Give us a call at (973) 424-9640 or send us a message, and our experienced agents will help find the right dumpster for you.
Preparing For Your Dumpster Rental Delivery
Follow your town's dumpster regulations. Each town has its own rules for where dumpsters can be placed, and for how long. Get the necessary permits. Here are some links to roll-off dumpster town regulations in Essex County and Union County:
Follow the links below for more information on regulations and permits in your particular city or town.
Make sure there are no vehicles or materials blocking access to your site. Low-hanging tree branches and power lines are unsafe and can delay your dumpster delivery.
Preparing For Your Dumpster Rental Pickup
Please check if the dumpster is filled correctly. A dumpster with debris packed higher than the walls of the container is unsafe to transport. Spread the contents of the dumpster to prevent this. And if possible, make sure the contents of the dumpster are under the weight limit.
At the pickup appointment, please make sure nothing prevents access to the dumpster. Vehicles or materials blocking the way to the dumpster can delay your pickup appointment. Finally, remove any safety hazards.
Why Choose Galluzzo Brothers
We are a fully licensed and insured dumpster rental provider so you know we'll deliver and pick up your dumpster safely and professionally. We'll also dispose of your waste properly.
We own and operate our own equipment. That means we can charge less for dumpster rental services than our competitors. Cut out the middleman and save cost on your next project.
We're highly rated by our customers. And because we own and operate our business, customer service is always our top priority.
Dumpster Rental Pricing
Prices for our dumpster rental services vary based on the location. The duration of the rental affects the pricing as well. To get a quote that meets your particular needs at the lowest price, please call us at (973) 424-9640 during business hours, or leave us a message on our contact form.